Brennan & Clark at ICE Conference 2022 for expert collection advice
Brennan & Clark is very proud to exhibit at the ICE Conference, October 16-19, 2022.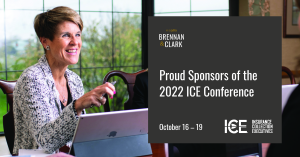 We are so excited to be back in person after being virtual for the past few years. This event provides a unique opportunity to explore ideas, technologies and processes tailored specifically to the challenges of the fast-paced insurance collections environment.
Insurance Collection Executives, "ICE", is an industry organization dedicated to supporting the insurance collection professional. ICE is a non-profit organization with a targeted membership of insurance industry executives.
With a dynamic line-up of guest speakers, the ICE Conference 2022 promises to be both instructive and thought provoking. Brennan & Clark are delighted to sponsor day one of this year's event. Sunday afternoon will involve a networking event for all conference attendees, premier partners and exhibitors. The conference features a number of keynote addresses including 'Can I trust You' – by Dr Yoram Solomon, author of the Book of Trust and host of The Trust show podcast
Throughout the ICE Conference, Brennan & Clark will be available for in-depth advice and expert tips on enhancing your collections performance. Visit our exhibition booth at the event to find out more about our training and consultancy services and explore our commercial collections offering.
Meg & Kim will be on hand throughout the event to provide tailored recommendations on helping your team collect more with confidence. We'd love to meet and connect with you.
If you're unable to make it to Atlanta, remember we're available any time for free, confidential advice to help boost your collections rate. Give us a call today.
We can't wait to see you at the conference!
About Brennan & Clark:
With over 40 years' experience in commercial collections, Brennan & Clark is a leading expert in collecting all that can be collected while still respecting and protecting customer relationships. Thanks to our proven negotiation techniques and proprietary technology, we regularly collect more than 20% above industry average. We even offer a Fast-Track payment service so you can get paid upfront, improving your cashflow and avoiding the hassle of debt guesswork.
More News & Insights