Brennan & Clark at Virtual ICE Conference 2021 for expert collection advice
Brennan & Clark is very proud to yet again sponsor and exhibit at the Insurance Collection Executives Conference October 18-21, 2021.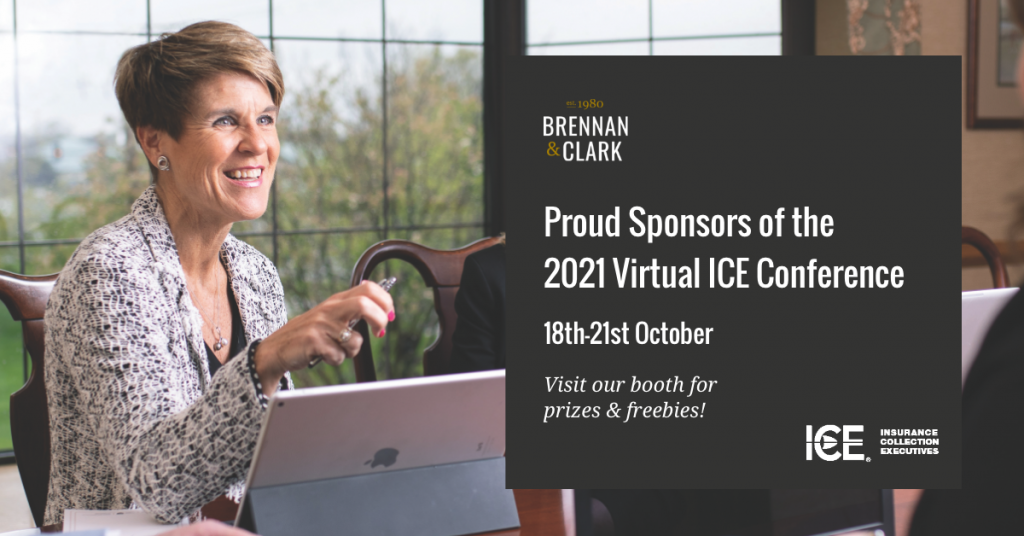 Currently hosted in an online format, the event provides a unique opportunity to explore ideas, technologies and processes tailored specifically to the challenges of the fast-paced insurance collections environment. With a host of informative speakers, online exhibitors and engaging networking events, ICE 2021 combines expert industry insight with a chance to learn from peers. Brennan & Clark is at the conference. Please stop by and visit our exhibition page for specialist collections advice. Of course, we have a surprise up our sleeve to say Thanks For visiting! We'll keep you fueled and hyped for a day of learning!
With a dynamic line-up of guest speakers, the Virtual ICE Conference 2021 promises to be both instructive and thought provoking. Brennan & Clark is delighted to sponsor this year's Keynote Speaker, Chris Littlefield, who will be focusing on the topic of 'Resilience' – a quality we have all come to regard as essential over the course of the pandemic.
Throughout Virtual ICE Conference, Brennan & Clark will be available for in-depth advice and expert tips on enhancing your collections performance. Visit our virtual exhibition page to find out more about our training and consultancy services and explore our commercial collections offering.
During the conference, visitors to our exhibition page can easily initiate a virtual one-on-one conversation for free confidential collections advice. Meg & Kim will be on hand throughout to provide tailored recommendations, helping your team collect more with confidence. We'd love to "meet" with you!
Every visitor who follows Brennan & Clark's exhibition page will also be entered into a raffle for a $250 Amazon gift card. Between getting some sound collection advise, and the opportunity to win a prize– you have the perfect reason to visit Brennan & Clark at Virtual ICE Conference 2021!
If you're unable to attend, remember we're available any time for free, confidential advice to help boost your collections rate. Give us a call today.
We can't wait to see you at the conference!
About Brennan & Clark:
With over 40 years' experience in commercial collections, Brennan & Clark is a leading expert in collecting all that can be collected while still respecting and protecting customer relationships. Thanks to our proven negotiation techniques and proprietary technology, we regularly collect more than 20% above industry average. We even offer a fast-track payment service so you can get paid upfront, improving your cashflow and avoiding the hassle of debt guesswork.
More News & Insights