Top tips to build & retain a strong collections team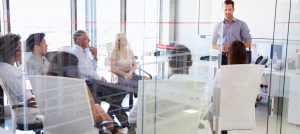 As with every industry, people are at the heart of success, and smart hiring, matched with continuous training and development, is the recipe for progress.  
It is critical to select people with an aptitude for empathy and negotiation. People with strong communications skills and a drive for self-improvement and growth. You should commit to ongoing commercial collections training and development for a successful long-term hire.  
Finding & selecting the right people
Make it your company philosophy to hire right and never "fill a gap". There is no sense in investing your time and resources if there is no passion from or for the candidate. 
People who are goal-oriented and driven to overcome opposition to accomplish a task are highly sought after. They can thrive in challenging situations, allowing them to keep a cool head and steer a course to success.   
At Brennan & Clark, we run an always-on recruitment program to keep new applicants streaming through. Everyone in our team carries a little stack of recruitment leave-behind cards to give wait staff, retail clerks, sales reps and customer service people they meet daily, which is more important than ever due to ongoing global staffing challenges. Referrals are a great source of new recruits, so have a strong referral program. 
Training new recruits
Fresh recruits should be assigned a mentor from day one who will help them cultivate their craft in commercial collections. In the basic commercial collections training phase, recruits should focus on memorizing scenarios and scripts to cover the most common generic situations and to anticipate the potential disputes that arise. Mentors play a huge role in this early stage of training.  
Once a new hire is proficient at roleplaying with their scripts, they are ready to take deeper negotiation training. This will give them more insight into the stages of negotiation, the psychological components, listening skills, and achieving win-win outcomes. At this stage, candidates are asked to o brainstorm their own stories to test their negotiation skills.  Doing this in a group setting is a great way to overcome any barriers they may encounter on a commercial collections call.   
The next phase for recruits in the commercial collections training process is to further their practical education by reading negotiation books. They should present what they have learned from this material to colleagues and be encouraged to elaborate on their use in calls. Having completed this stage, negotiators are ready to work on sophisticated dispute accounts and interact in more detail with clients. Training is a crucial element of any collections department whose goal is mastering the art of collections.  
If you would like support training your team to collect more, our expert Collections Training team will develop a bespoke tailored program specific to your requirements and industry. Get in touch today.  
More News & Insights