Is inflation eroding your account receivables?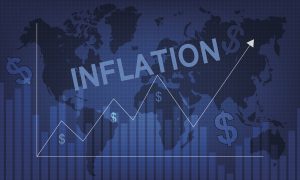 With inflation so high, businesses are understandably reluctant to borrow. Collecting past-due account receivables could provide the cash flow you need, but the longer you leave it, the harder it will get.
Times are tough for businesses of all kinds right now. With inflation high, and set to increase further, your purchasing power is shrinking rapidly. At the fuel pumps, soaring price increases are driving up the cost of everything we buy, with dramatic effects on all aspects of shipping and distribution.
Add in the negative effects of the pandemic, a complex supply chain crisis, and an almighty interest rate hike, and it's clear that companies everywhere are feeling the squeeze.
Your accounts receivable could improve your cash flow
So, where do you turn then when it comes to funding the development of your business? Borrowing might seem like a solution, but with lenders increasing interest rates, the cost of borrowing is rising.
Commercial debt can be difficult to navigate at the best of times, but during periods of high inflation, things get even trickier. Although commercial debt can deliver the capital you need for growth, if inflation is high, the value of your commercial debt can decrease, making it more expensive to borrow, and even harder to pay off.
Your accounts receivable could provide a smarter solution. Rather than borrowing money for capital expenditure, during times of high inflation, when borrowing costs so much, focus on keeping accounts receivable in check.
Your past-due receivables could provide the best source of that all-important cash flow.
How does inflation impact accounts receivables?
We've already outlined some of the effects inflation can have on trade and the supply of goods, but what many people neglect to consider is the effect of inflation on accounts receivable.
Right now, inflation in the US is around 8.2%, which means your Account receivables are decreasing in value. Bills that your customer settles today will be worth less than when you originally sent the invoice out last month. And when they do pay up, the money they hand over will buy less because your costs will be higher.
In effect, the longer you wait to collect, the less your money is worth. More important still, the longer you wait to collect, the more your chances of collection diminish.
As you look down the list of accounts receivable and evaluate which customers are struggling, one thing is certain. If clients are in difficulty now, they're only going to find it harder as time goes on.
Over the next few months, businesses everywhere are facing the perfect storm. So, with inflation shrinking the value of your account receivables and the cost of credit going up, past-due receivables could be weighing your business down.
Brennan & Clark's Fast Track Payment Program can help
One way to convert your accounts receivables into cash is to employ a commercial collection agency such as Brennan & Clark. This can help you keep on top of accounts receivables, freeing up cash flow.
At Brennan & Clark we work on your behalf to collect all that's collectable while also protecting client relationships, typically collecting around 20% above the industry average. That means, rather than pulling you under, your accounts receivable can help keep you afloat.
Our Fast Track Program adds further benefits with up front payment – a feature which provides a lifeline in today's economic climate, where inflation can so quickly erode the value of your A/R.
When you partner with us for Fast Track Payment, we pay you within 5 days of placing a batch of accounts with us. That means you know for sure the worth of your past-due receivables and the extent of your bad debt write-off.
Better still, you receive the money right away leaving Brennan & Clark to take on the risk. At a time when inflation keeps on delivering nasty surprises, we help you stay on top with a hassle-free collections service that boosts cash flow and increases predictability.
If you would like to hear more, tell us a little about your collections need and we'll be in touch within 48 hours to discuss what Fast Track can do for you.
More News & Insights