How digital evolution is changing commercial collections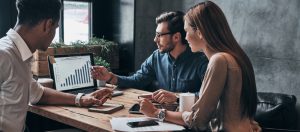 Digital technology is rapidly changing the face of the commercial collections, finance and credit departments. As technology evolves, and the amount of available data increases exponentially, the role of the Corporate Credit Manager continues to be redefined.
More than account management
When it comes to the role of Credit Management, it's safe to say the job functionality has changed considerably over the past few years.  Where once a degree in finance or accounting and some collections experience was a great starting point, companies are now looking for more. Most companies are looking to utilize the advancing technologies and automation solutions to speed up day-to-day activities while, at the same time, accelerating payment timetables and reducing DSO.
Today's environment calls for strong analytical skills, excellent communication, strong interpersonal skills, negotiation skills, and, last but by no means least, a thorough knowledge of IT in a high transaction environment. Organizations are now filling these roles with people who can pivot to embrace the future of artificial intelligence (AI) and harness the advantages of digitization.
Commercial collections in a digital era
A company's willingness to invest in technology is the biggest tool transforming the commercial collections department. Not only is it making your customers' interactions with you faster and cleaner within an online environment, but digitization is also changing the way internal accounting processes are managed. Industry statistics are showing that 64% of all companies have system enhancements on their list of annual benchmarks.
For the Director of Finance, this might mean overseeing a department learning to run cash through portals. Or introducing new automation technology in the collections process with the aim of eliminating low value, manual tasks and increasing data reliability
Managing your Commercial collections team
On top of trying to usher in a more secure digital era, credit departments and finance offices are increasingly tasked with managing their employees' personal development and engagement.
This means that in addition to mastering new digital tools, Financial Directors are also expected to develop their teams' abilities. And, as the overall role of the credit department changes, the emphasis on finding the right talent and driving digital skills is constantly increasing.
Staying ahead of the technology curve while bringing staff up to speed with the various changes, not to mention the "Great Resignation," has made this even more challenging with companies struggling to retain staff.
Data analysis drives credit decisions
Effective decision making relies on full visibility, yet few companies have an analytics department they can call on to provide detailed information. Gaining deeper and better access to the right data is vital to being able to evaluate your current credit decisions while helping to shape future ones as well.  Working closely with vendors utilizing a combination of technology and business intelligence to inform decisions is a must.
At Brennan & Clark we have found our in-depth reporting is helping our clients evaluate the credit risk and make-up of their bad debt write-offs. Our reporting capabilities reveal which SIC codes or demographics have the highest and lowest recovery rates. This knowledge allows our customers to proactively forecast what percentage of their portfolio will be collectible. Knowledge that, when combined with their internal metrics, can be used to make informed decisions on future credit granting parameters to lower unnecessary risk. It has been our focus in the last few years to get beyond an entry level of digitization and be a leader in both reporting and forecasting. This collaboration with our clients has allowed us to play a pivotal role in their credit management process.
With the ability to collect a full 20% above the industry average, plus access to in-depth analysis of your receivables, Brennan & Clark continues to provide essential support to today's Commercial Collections Manager. 
For more information about how Brennan & Clark can help you navigate the digital transformation process while also improving your collections rate, contact our expert team today.
More News & Insights